Our Executive Committee 2023
President & Women's Health REP
Madhura was first involved in VMWS as a medical student at Monash University. She has since spent several years exploring medicine and surgery before choosing to specialise in intensive care. She is passionate about gender equality, especially in the workplace, as well as quality education for all. She is proud to be involved in VMWS and believes in medical women empowering and supporting each other to create and consolidate change in our world. In her free time, she loves expanding her horizons by travelling and engaging in her longtime interests of salsa dancing, photography and writing.
Magda is a GP, a fellow of the Royal Australian College of General Practitioners (RACGP) and an honorary research fellow with the Department of General Practice at the University of Melbourne, with expertise in implementation of evidence-based practices in health delivery. She was President of VMWS in 2012-2013 and after spending time overseas, returned to the role in 2017. She is passionate about women's health, equality in the profession and medical mentoring. Bringing medical women together whilst supporting them on their journey is central to her mission.
Courtney is a junior doctor with a passion for women's health, well-being and equality in the profession. She is excited to be involved in the Victorian Medical Women's Society as vice-president and looks forward to working with like-minded colleagues to empower and support other women. She strives to contribute to creating and maintaining better health and better opportunities for women. Outside of work, she loves discovering new farmers markets, indulging in degustation dinners and immersing herself in different cultures through her travel adventures. She also loves catching up on a good Netflix series!                                
Lauren is a first-year doctor at St. Vincent's Hospital Melbourne. This is Lauren's second year as part of the VMWS Executive Committee, having undertaken the role of Shadow Secretary in 2022. As Lauren continues her journey through medicine, she is inspired to create change for the next generation of women entering the medical workforce by advocating for their personal and professional needs. She is focussed on bringing kindness into the workplace and promoting medical women to support one another throughout their careers. Outside of medicine, you'll likely find Lauren trying new recipes to further her baking skills as well as tending to her veggie garden. She is proud to be a part of the VMWS committee and to work alongside an inspiring group of women.
Mian is a resident at Monash Health, after having worked many years as engineer and business analyst in pharmaceutical industry. She is passionate about work and training flexibility, an area that still needs a lot of improvement and acceptance in medicine, without which especially disadvantage medical women. She has enjoyed part time internships and residency years and her aim is for everyone to be able to access this as well (should they want it), so they can have healthy life outside work.
Katrina is a resident at Mercy Hospital with a passion for Women's health, wellbeing and equal opportunities. In her previous nonmedical job, she worked in a male dominated industry (Engineering / IT!) and felt that there was a gap at the table. Through VMWS, she is excited to be part of a positive bold force to help empower and support other women. She has held other roles; working with the entire student cohort and medical admin, and advocating for equal learning opportunities across all campuses. She is interested in supporting other women around her, creating balanced representation and firmly believes in creating a safe communities to help encourage others. In her free time, she is often found on walks along the beach with her dog.
Angie is a junior doctor working at the Austin Hospital in Melbourne. She has moved to Australia from Italy after high school and has since embarked into a long academic and sporting journey before ultimately settling into Medicine. Whilst she is yet to decide her future medical pathway, Angie has a clinical interest in women's health, paediatrics, and critical care. Angie is very excited to join the VMWS Team and continue advocating for all patients and colleagues for more equitable healthcare and opportunities. Additionally, Angie is looking forward to learning and growing as a junior doctor alongside other fantastic women and continue to cultivate her interest in women in leadership.
Jessie Zhou is a BPT at Melbourne Health, with a background in pharmacy. She is passionate about mentorship and is a strong advocate for gender equality and diversity in medicine and surgery. Through VMWS, she looks forward to collaborating with an incredible team of women to support and empower individuals at all levels of their medical career to realise their ambitions and unlock their full potential. Key areas of interest include: Medical Education, Technology (AI, digital health), Policy, Multimedia and Research.
Vicky Yin is currently an intern at Eastern Health and a recent graduate from the University of Melbourne. She advocates for doctors' wellbeing and has a passion for inclusivity and diversity in medicine. Vicky is excited to work alongside like-minded women to support and empower medical women throughout their professional development. As the incoming archivist, she endeavours to continue collecting and dispensing valuable historical information relating to the VMWS. When not working or studying, you might find Vicky in gardens and nurseries trying to get to know a new plant.
Rosalind is a retired doctor, Board Member of AMA (Vic) and seniors representative of VMWS. She began her career as a biochemist and microbiologist in Australia and USA, continuing this while she studied medicine. Residency years included being the first female surgical registrar at St Vincents' in Sydney and this lead to 10 years in PNG working in surgery, O and G and general medicine in often challenging conditions. Return to Australia was via two years on Norfolk Island after which she became involved in emergency medicine. She feels strongly about supporting female medical students and the equality of women in all fields of medicine.
Nikki is a junior doctor working at the Royal Children's Hospital. As someone who champions social justice, Nikki has a passion for community healthcare. She believes that the wellbeing of women is a key component in fostering the holistic wellbeing of our entire community. As a member of the VMWS, Nikki hopes to bolster the provision of equitable workplace opportunities for women in medicine and surgery. In her spare time, she is found outdoors walking/ hiking and soaking up as much sunshine as possible. Nikki is one of our new and enthusiastic additions the VMWS committee this year.
Elysia is a mother, partner, family member, friend and doctor. Elysia is currently completing her GP training and hopes to one day focus on women's health, public health, palliative care and advanced care planning in GP. She has been involved in the VMWS since 2011, just before her first child was born. Elysia has a background in molecular biology and Alzheimer's Disease research. She completed a graduate-MBBS at the University of Melbourne, and had two babes during the latter part of her course. She, is one of very few to have, completed internship and residency part-time. She spent six months working full-time in obstetrics and gynaecology, completing a DRANZCOG. Elysia advocates for part-time work in junior medicine, and more equitable and fair working conditions for junior doctors to allow for better life balance and health. For Elysia, the VMWS has been an excellent source of inspiration, support, education and networking, and has made her medical training, with children, far more tolerable.
Deb is a Melbourne ophthalmologist who graduated from Monash in 1975 and is a Fellow of the College of Ophthalmologists and the College of Surgeons (1983). She has a small private practice in Ivanhoe, NSW. Deb was a Director of Ophthalmology at Austin Repatriation Medical Centre and recently retired from the College of Surgeons Council and as Chair of the RACS Women in Surgery Committee, a position she held for nine years. Since 2000, she has been Director of Curriculum Development at the Royal Victorian Eye and Ear Hospital. Deb's Master of Public Health degree focused on educational program evaluation in health care and she now researches curriculum and public health themes, including ophthalmic public health, gender and curriculum, and women in leadership in vocational education and training. She is interested in 'doing leadership differently', developing ways of participation that 'work for women' in the profession. " Arising from the MWIA meeting in Sydney 2001, Deb taught medical students in Sweden and participated in curriculum development for MWIA with its Executive, alongside gender experts from the WHO and UN, in Italy.
Kalyana is an HMO at Monash Health with a keen interest in endocrinology and reproductive health. She is passionate about effecting positive change in the medical community and empowering women in medicine Outside of medicine, she finds adventure in scuba diving and rock climbing, and delights in the quest to discover the best pistachio gelato.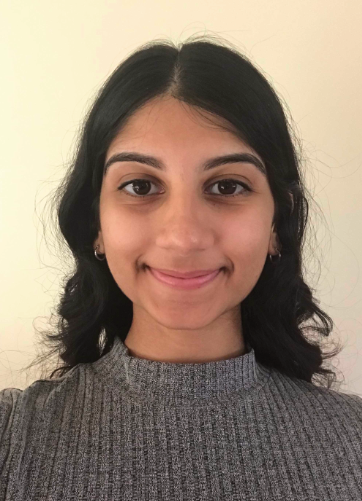 Sonali is a GP trainee currently working as a resident at Monash Health. She has a strong interest in medical education and promoting a learning environment conducive to inclusivity and advocacy for students and junior doctors. She aspires to one day work at a university to guide and support students as they enter the world of medicine. Through VMWS, she hopes to combine her interests in digital health and multimedia with promoting topics of interest for women in medicine.
Jasmin is a medical student at Monash University. Alongside her medical career, she is passionate in public and global health, emergency response, and humanitarian aid. After growing up in a developing country, she aspires to provide care in low resource settings around the world. Through VMWS, she hopes to be a vocal advocate in support of the contemporary issues women in healthcare are facing, and to improve opportunities in the medical field by promoting equality. During her free time, Jasmin enjoys winding down with her cat and finding new hobbies such as bouldering!
Lois Segun-Beloved is a third-year medical student at Monash University. She has a passion for mental health and sexual and reproductive health care and intersectionality in medicine, particularly in the fields of rural health, indigenous health and queer health. Having been involved in university organisations and events around gender equity and diversity, she is excited and proud to be shadowing the events team and representing Monash University on VMWS.
Joanna is a second year medical student at Deakin University. She is passionate about gender equality and diversity in medicine. Joanna is excited to join the VMWS committee and work together with a group of inspiring women to continue to empower women in healthcare and in the broader community. In her spare time she enjoys playing tennis and running, and is currently training for her first half marathon.
Sofiya Fateeva is a third-year medical student at Deakin University. She is an aspiring medic who in her free time does social media on her Instagram and Youtube accounts, where she shows and talks about life as a medical student. In the future, Sofiya hopes to become an anesthesiologist.
Smriti is currently a final yr Deakin medical student and previously undertook a BSc(Adv) at University of Adelaide. Her interests in medicine lie in General Practice including sub-interest of paediatrics amongst others. She is passionate about creating a positive impact on the health and wellbeing of communities, specifically, LGBTQ+ youth, medical students and junior doctors. She is also currently the Wavelength Officer as part of AMSA Queer. Outside of medicine, she enjoys a well-rounded life with travel, exploring Melbourne, being a foodie, podcasts and spending time with friends and family.
Angie is a final year medical student at the University of Melbourne. She is particularly interested in the critical care specialities and caring for high acuity patients and their families. She is grateful to be part of the VMWS committee this year and to serve alongside an inspiring group of women to advocate for gender equality, justice and social change.
Interested in being involved?
We welcome new members and participation in VMWS activities.